Daily Inter Ocean, 25 September, 1896
JONAH AT THE HELM.


"But the Democrats Have Vanished, like another Jonah, into the maw of the Populists, and I do not know how in the world they will get along unless they come out."--Senator Sherman before the McKinley Commercial Club No. 1.

There Is No Cause for Alarm. Jonah Has Improvised a Tiller Out of the Whale's Backbone, and They Will "Get Along" Together Fast Enough, Never Fear.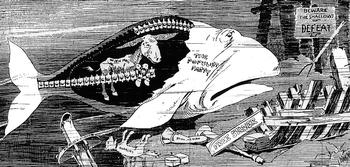 Jonah and the Whale
The Currency Question
John Sherman