The Coming Nation, 14 November, 1896


Our Farmers' Situation.
[text of poem printed below]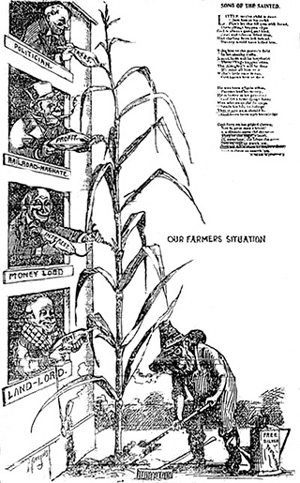 Song of the Sainted.
Little factory child is dead,
Jam him in his coffin.
Don't let this fill you with dread,
These things happen often.
God is always good and kind,
Grief and sorrow filled Him,
Had the boy been left behind,
Slavery would have killed him.

Take him to the potter's field
In his shabby coffin;
Jesus Christ will be his shield;
These things happen often.
The Almighty's work be done;
We must all bow to it
Willie's little race is run;
God knows how to do it.

He was born a little slave, Parents had no money;
He is better in the grave,
God does some things funny.
Man who owns that factory
Sends his boy to college;
That is just as it should be,
God loves boys with knowledge.

God lives on his gilded throne,
Not by poor man's hovel;
He wills woes upon the drone,
They're the angel's level. Still somehow he loves the poor
Just enough to watch 'em
When we take them to death's door,
God is there to snatch 'em.
--A MAN WITHOUT A SOUL.



Socialism
Farmers
Free Silver