'No Cross of Gold'
Excerpts from
Bryan's Address to the National Democratic Convention
9 July 1896


For a full text of this speech, see the Douglass Archives of American Public Address




And now, my friends, let me come to the paramount issue. If they ask us why it is that we say more on the money question than we say upon the tariff question, I reply that, if protection has slain its thousands, the gold standard has slain its tens of thousands. If they ask us why we do not embody in our platforms all the things that we believe in, we reply that when we have restored the money of the Constitution, all other necessary reform will be possible; but that until this is done, there is no other reform that can be accomplished.

Why is it that within three months such a change has come over the country? Three months ago when it was confidently asserted that those who believed in the gold standard would frame our platform and nominate our candidates, even the advocates of the gold standard did not think that we could elect a President. And they had good reason for their doubt, because there is scarcely a State here today asking for the gold standard which is not in the absolute control of the Republic Party. But note the change. Mr. McKinley was nominated at St. Louis upon a platform which declared for the maintenance of the gold standard until it can be changed into bimetallism by international agreement. Mr. McKinley was the most popular man among the Republicans, and three months ago everybody in the Republican Party prophesied his election. How is it today? Why, the man who was once pleased to think that he looked like Napoleon-that man shudders today when he remembers that he was nominated on the anniversary of the battle of Waterloo....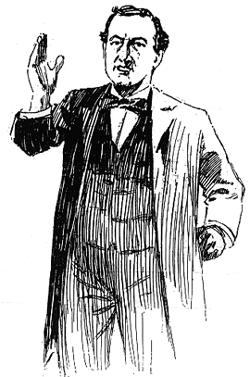 "NO PUBLIC OFFICIAL WHO CONSCIENTIOUSLY DISCHARGES HIS DUTY WILL DESIRE TO DENY THOSE WHOM HE SERVES THE RIGHT TO DISCUSS HIS OFFICIAL CONDUCT." from New York World, 13 August, 1896.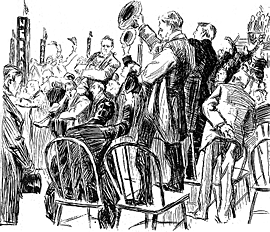 W.J. BRYAN CARRIES ON THE SHOULDERS OF HIS ADMIRERS AFTER HIS ORATION.
from Harper's Weekly, 18 July, 1896.
You come to us and tell us that the great cities are in favor of the gold standard; we reply that the great cities rest upon our broad and fertile prairies. Burn down your cities and leave our farms, and your cities will spring up again as if by magic; but destroy our farms and the grass will grow in the streets of every city in the country.
My friends, we declare that this nation is able to legislate for its own people on every question, without waiting for the aid or consent of any other nation on earth; and upon that issue we expect to carry every state in the Union. I shall not slander the inhabitants of the fair state of Massachusetts nor the inhabitants of the state of New York by saying that, when they are confronted with the proposition, they will declare that this nation is not able to attend to its own business. It is the issue of 1776 over again. Our ancestors, when but three million in number, had the courage to declare their political independence of every other nation; shall we, their descendants, when we have grown to seventy millions, declare that we are less independent than our forefathers?
No, my friends, that will never be the verdict of our people. Therefore, we care not upon what lines the battle is fought. If they say bimetallism is good, but that we cannot have it until other nations help us, we reply, that instead of having a gold standard because England has, we will restore bimetallism, and then let England have bimetallism because the United States has it. If they dare to come out in the open field and defend the gold standard as a good thing, we will fight them to the uttermost. Having behind us the producing masses of this nation and the world, supported by the commercial interests, the laboring interests and the toilers everywhere, we will answer their demand for a gold standard by saying to them: You shall not press down upon the brow of labor this crown of thorns, you shall not crucify mankind upon a cross of gold.