New Road, 21 June 1896
TO BE DECIDED AT CHICAGO NEXT MONTH.
Grover (Soliloquizing): "How happy I could be with either were the other fair charmer away."
(Gold Maids from New and Old England): "Don't look at those brazen Silver Hussies, Grover, we are the stuff!"
Silver South and West: "Don't you like our style? Come, Grover, throw off that hypnotic spell and flirt with us."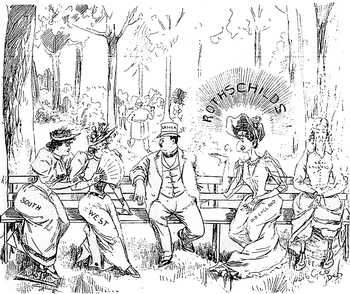 Grover Cleveland
The Currency Issue
Foreign Relations
Antisemitism
Rothschilds Family
Sectional Interests