New York Journal 3 September, 1896
A FEW REALLY PERTINENT QUESTIONS.

VICEROY LI HUNG CHANG TO VICEROY HANNA.
How rich are you?
Did you make any of your money reducing workingmen's wages?
If the free coinage of silver would, as you say, tend to reduce the wages of workingmen, why are YOU opposed to it?
Who gives you all the money you are spending?
What do you promise in return for it?
How do you make Mr. McKinley do what you tell him?
Will he keep on doing it when he is President?
How did you get hold of him first?
Do you consider that those notes are a good investment?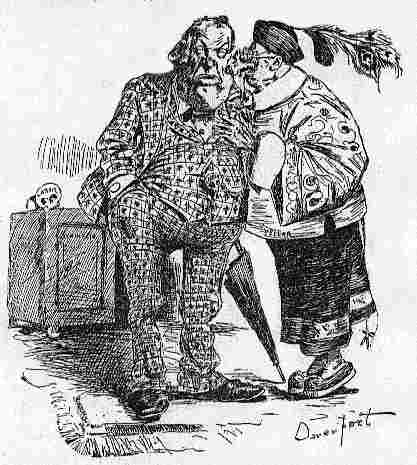 Li Hung Chang
The Gold Standard
Mark Hanna
The Labor Vote
William McKinley
The Trusts
The New York Newspaper Wars
Homer Davenport